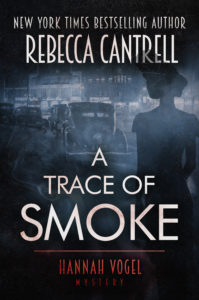 ***Winner of the Macavity and Bruce Alexander Award!***
It's 1931 in Berlin, and the world is on the precipice of change—the affluent still dance in their gilded cages but more and more people are living under threat and poverty. Hannah Vogel is a crime reporter forced to write under the male pseudonym Peter Weill. As a widow of the Great War, she's used to doing what she must to survive. Her careful facade is threatened when she stumbles across a photograph of her brother in the Hall of the Unnamed Dead. Reluctant to make a formal identification until she has all the details, Hannah decides to investigate, herself. She must be cautious as Ernst's life as a cross-dressing cabaret star was ringed in scandal, and his list of lovers included at least one powerful leader in the Nazi party.
She's barely had a chance to begin before an endearing five-year-old orphan shows up on her doorstep holding a birth certificate listing her dead brother Ernst as his father, and calling Hannah 'Mother.' Further complicating matters are her evolving feelings for Boris Krause, a powerful banker whose world is the antithesis of Hannah's. Boris has built a solid wall preventing anyone from disturbing his, or his daughter Trudi's, perfectly managed lives—a wall Hannah and Anton are slowly breaking down.
As Hannah digs, she discovers political intrigues and scandals touching the top ranks of the rising Nazi party. Fired from her job and on the run from Hitler's troops, she must protect herself and the little boy who has come to love her, but can she afford to find love for herself?
A TRACE OF SMOKE is smokin'!
Winner of the Macavity Award: Sue Federer Historical Mystery (winner)
Winner of the Bruce Alexander Historical Mystery Award (photos)
Barry Award: Best First Novel (nominee)
Best Historical Novel of 2009 (Romantic Times Reviewer's Choice nominee)
Standouts from 2009 ( Gumshoes, Guns, and Gams from edge)
On Murder, Mystery, and Mayhem "Staff Picks the Year So Far"
Thriller Book Club selection at dearreader.com
On Deadly Pleasures "Best First Novel of 2009" list
A Writer's Digest Notable Debut
An Elaine's Pick at Book Passage
A First Pick from Barbara Peters at Poisoned Pen
A Top Pick from Romantic Times
A Fresh Pick from freshfiction.com
Starred reviews from Kirkus and Publisher's Weekly
In Galley Talk at Publisher's Weekly and in the cover article in Library Journal
Front page newspaper coverage at West Hawaii Today, featured in the Honolulu Star Bulletin, Big Island Weekly
Great reviews also from Booklist, Mystery Scene Magazine, The Book Case, and Crime Scraps
Pierce's Pick of the Week at January Magazine
For someone who had such a rough life, Hannah Vogel is having a great debut!
"The playful, but also despairing, decadence of Weimar Berlin, captured vividly by…Ms. Cantrell." — Wall Street Journal
"[A] bold narrator and chilling historical setting… unusually vivid." — New York Times Book Review
"Rebecca Cantrell's debut novel A Trace of Smoke is that rare beast that blends meticulous research with old-fashioned novel-writing skill. The book follows a young woman through the seedy streets and into the fashionable districts of 1931 Berlin as she unravels the mystery behind her brother's death. Was the killer his long-time boyfriend, the young gay Nazi he was seeing, or one of his many admirers at the club where he sang in drag? Cantrell punches the reader's ticket for a trip to a time long vanished, and yet still deeply fascinating and rich." — The Edge New York
"Ms. Cantrell writes poignantly of the mounting misery of existence in Hitler's Germany." — The Washington Times
"Hot Nazi Beach Read." — Boston Phoenix
"This compelling momentum overshadows any minor hiccups, and as Cantrell's debut finishes with a flourish, Hannah Vogel lives on in the imagination, and one might hope — in a future installment." — Honolulu Advertiser
"Cantrell's debut offers up a grittily realistic portrayal of 1930s Berlin as the Nazis come to power. While covering her usual crime beat, newspaper reporter Hannah Vogel unexpectedly spots a photo of her brother Ernst in the Alexanderplatz Police Station on a wall displaying pictures of the unclaimed dead. Ernst had been living a high-profile life as a gay man, performing in a cabaret and exposing himself to danger by associating with known Nazis. Though barely getting by in a time when money and resources are scarce, Hannah risks it all by launching a solo investigation to find her brother's murderer. She is unable to confide in even her closest friends lest they be targeted by corrupt police or Nazis. Keeping the suspense high, Cantrell does an excellent job of projecting the fear of the time through her characters. Sure to appeal to fans of Alan Furst and other noir historical thrillers; strongly recommended." — Caroline Mann in Library Journal (starred review, highest ranking)

"Cantrell also does a great job of giving us a feel of what Berlin was like during 1931…well researched. The writing is fluid and the details make the characters come to life. Even though Ernst Vogel is dead when the story begins, through the letters Rohm wrote, and Hannah's memories, we get a feel for who he was and the life that was lost. A Trace of Smoke is an intriguing read for history buffs and mystery lovers as well." — Krysten Hager at Pop Syndicate
"Hannah and the boy who adopts her are compelling enough, but the real star of the book is Berlin. Hannah's quest takes the reader on a tour of the dark side of German society at a critical moment, and though Cantrell, who studied in Germany, loves her research enough to include a glossary, it's not intrusive. It's immersive and compelling." — Barbara Fister in Mystery Scene Magazine
"A riveting new work, A Trace of Smoke (Tor, May) seduced me immediately, drawing me into an intoxicating world of intimate violence, complicated family relationships and voluptuous intrigue set in a time and place steeped in duplicity. Nazism is on the rise and police work is rife as people go missing and newspapers cry out their stories. Mischief swirls about a singular Berlin nightclub that embraces those who would cross-dress and love men who are forbidden to love them in return. Our heroine, Hannah, plunges into this world with reckless and determined abandon in search of her brother's truth. I defy any reader to not fall fully for Hannah as she follows the bright satin thread that is her brother's bold, dangerous life, leading her through murder and mayhem, risking her heart the entire way. When a small child enters the picture, expect to give up your immediate plans in order to finish this stirring novel in one exhilarating inhalation." — Publisher's Weekly Galley Talk
"Prepare to be transported back to 1930s Berlin in this terrific debut. Cantrell's atmospheric mystery keeps you off-balance; there's a sense of dread as to what might be waiting around every corner. Vivid and dramatic descriptions allow readers to easily conjure up the imagery, as if you were watching a great old black-and-white film on the big screen. The star is crime reporter Hannah Vogel, who lives by her wits, but the one who will steal your heart is her "son," Anton. " — Romantic Times (4 1/2 stars, and a Top Pick)
"Set in 1931 Berlin, Cantrell's scrupulously researched debut tolls a somber dirge for Weimar Germany in its last days…this unforgettable novel, which can be as painful to read as the history it foreshadows, builds to an appropriately bittersweet ending." — Publisher's Weekly (starred, highest ranking)
"A crime reporter investigates the murder of her brother, a cabaret nightingale, in Cantrell's haunting debut novel…evocative, compassionate and compelling." — Kirkus Reviews (starred, highest ranking)
"It's dark, it's dangerous, it's bittersweet and while I was reading it, I couldn't put it down." — dearauthor.com
"Cantrell nails both the 'life is a cabaret' atmosphere and the desperation floating inside the champagne bubbles… a promising debut." — Booklist
"Drawing big prepub buzz this spring with blurbs from Bill Pronzini and Anne Perry is Rebecca Cantrell's debut historical noir, A Trace of Smoke (Forge, May), which Tor/Forge publicity manager Alexis Saarela touts as a personal favorite and an example of an escapist mystery. Set in a moody Weimar Berlin falling under the dark thrall of the Nazis, the novel traces crime reporter Hannah Vogel's search for the killer of her cross-dressing, cabaret singer brother." — Library Journal
"…an immediacy and sense of tension and danger that grabs you from the very first page…The geography, attitudes and corrupt feel of the city is described in meticulous and fascinating detail…It is engrossing and absorbing but not always comfortable feeling…an outstanding book." — Crime Scraps
"This is a powerful historical tale that…will have readers pondering whether this could happen in modern day America." — Harriet Klausner
"A compelling and human story that captures brilliantly the atmosphere of Berlin during the rise of the Nazis." — Anne Perry, New York Times bestselling author of We Shall Not Sleep
"Evocative and hauntingly crafted, Rebecca Cantrell's debut mystery A Trace of Smoke is a treasure of suspense, romance, and murder. Her ability to spin history into a visceral reality is done with the artistry of a master storyteller. Truly a stunning start to a long career." — James Rollins, New York Times bestselling author of Indiana Jones and the Kingdom of the Crystal Skull
"Moving through the Berlin of 1931, with the monstrosity of the next decade stirring beneath the streets, Rebecca Cantrell's characters illustrate the very human desire to cling to innocence and joy, to do right no matter the cost, to shelter light amidst growing darkness. Both personal and historical, A Trace of Smoke clings to the mind." — Laurie R. King, New York Times bestselling author of The Game
"An absorbing plot, sharply drawn characters, and a fascinating recreation of the turbulent days in Berlin just prior to the Nazis rise to power make A Trace of Smoke a first-rate first novel. More Hannah Vogel mysteries of the caliber of this one would surely find an enthusiastic readership. But whatever Rebecca Cantrell decides to write next, her future is a bright one." — Bill Pronzini, 2008 MWA Grand Master
"Step into the fun house world of 1931 Berlin where nothing and no one is what it seems…A Trace of Smoke is compulsive reading with all the juiciness of the tawdry world of Cabaret but told with keen insight to the historical criminality taking place." — Sara Colleton, executive producer of Dexter and producer of The Painted Veil
"Brilliantly written and grounded in superb scholarship, A Trace of Smoke conjures up so evocatively one of the great twilight periods of history Berlin, in 1931, the Weimar Republic is dying and the nightmare of Nazism is taking root. Rebecca Cantrell's lucid style and her powerful and dramatic depiction of the heroine Hannah Vogel is neatly balanced by a most intriguing and suspense-filled mystery against a background throbbing with menace…This is a novel on par with other classics written on the same period and place by the likes of Christopher Isherwood. I recommend A Trace of Smoke unreservedly to all readers of historical novels as well as to anyone with an even passing interest in the period. A Trace of Smoke enjoys the one weakness of all outstanding historical novels – when is the sequel?" — Paul Doherty, bestelling author of The Poisoner of Ptah
"Set in the final days of Weimar-era Berlin, Rebecca Cantrell spins an engrossing, poignant tale in A Trace of Smoke. Her tightly crafted debut grips one in the secrets, among the shadows and a redolent decadence that will linger with you." — Cara Black, national bestselling author of Murder in the Rue de Paradis
"Rebecca Cantrell skillfully re-creates the decadence and terror of pre-war Germany as her heroine Hannah walks a dangerous tightrope between the world she once knew and the twisted reality being created by the Nazis as they rise to power. The reader will share Hannah's terror as she battles the greatest evil of her time with nothing but her wits and her desire to avenge her brother's death. A thrilling read." — Victoria Thompson, bestselling author of Murder on Bank Street
"Riveting from page one, Rebecca Cantrell's A Trace of Smoke is a compelling mystery set amid the decadence of 1930s Berlin." — Rhys Bowen, author of the Molly Murphy and Constable Evans Mysteries
"It's hard to believe this is Rebecca Cantrell's debut novel. A Trace of Smoke transports the reader to the murderous dark days of 1931 Berlin,and populates them with memorable people, particularly Hannah Vogel, who faces massive, historic terrors with only her wits as a weapon. What emerges is a chillingly compulsive, truly thrilling, and beautifully written novel. I couldn't put down, and I look forward to whatever this author writes next." — Gillian Roberts, author of the Amanda Pepper series
"Make room on your bookshelf for a talented new novelist named Rebecca Cantrell. In A Trace of Smoke, she delivers a historical mystery that works on every level. It's a riveting page-turner. It's an insightful study of a young woman in peril. It's a unerringly accurate vision of a society slipping steadily toward madness. And it's written with a sense of clarity, pace, and attention to detail that tell you this author is going to be writing terrific stories for a long time. So don't miss her debut." — William Martin, New York Times bestselling author of Back Bay and The Lost Constitution
"A beautifully written novel… [Cantrell] fills our real-world shadows with dread, and she does it with such style that we look forward to each terrifying turn of events. Her sense of the rich, electric period that she has chosen to write about is spot on, her characters consistently compelling, her dialogue as natural as—well, war."— Loren D. Estleman award-winning author of Gas City
Echoes of my footfalls faded into the damp air of the Hall of the Unnamed Dead as I paused to stare at the framed photograph of a man. He was laid out against a riverbank, dark slime wrapped around his sculpted arms and legs. Even through the paleness and rigidity of death, his face was beautiful. A small, dark mole graced the left side of his cleft chin. His dark eyebrows arched across his forehead like bird wings, and his long hair, dark now with water, streamed out behind him.
Watery morning light from high windows illuminated the neat grid of black-and-white photographs lining the walls of the Alexanderplatz police station. One hundred frames displayed the faces and postures of Berlin's most recent unclaimed dead. Every Monday the police changed out the oldest photographs to make room for the latest editions of those who carried no identification, as was too often the case in Berlin since the Great War.
My eyes darted to the words under the photograph that had called to me. Fished from the water by a sightseeing boat the morning of Saturday, May 30, 1931—the day before yesterday. Apparent cause of death: stab wound to the heart. Under distinguishing characteristics they listed a heart-shaped tattoo on his lower back that said "Father." No identification present.
I needed none. I knew the face as well as my own, or my sister Ursula's, with our square jaws and cleft chins. I wore my dark blond hair cut short into a bob, but he wore his long, like our mother, like any woman of a certain age, although he was neither a woman nor of a certain age. He was my baby brother, Ernst.