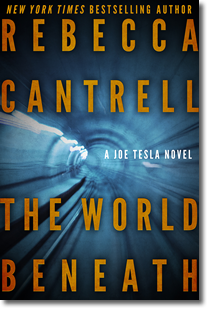 Winner of International Thriller Writers' Best Ebook Original Novel award!
Award-winning and New York Times bestselling author Rebecca Cantrell drops you into a vast, dark world: 100 miles of living, breathing, tunnels that is the New York City underground. This subterranean labyrinth inhales three million bustling commuters every day. And every day, it breathes them all out again… except for one. Software millionaire Joe Tesla is set to ring the bell on Wall Street the morning his company goes public. On what should be the brightest day in his life, he is instead struck with severe agoraphobia.
The sudden dread of the outside is so debilitating, he can't leave his hotel at Grand Central Terminal, except to go underground. Bad luck for Joe, because in the tunnels lurk corpses and murderers, an underground Victorian mansion and a mysterious bricked-up 1940s presidential train car. Joe and his service dog, Edison, find themselves pursued by villains and police alike, their only salvation now is to unearth the mystery that started it all, a deadly, contagious madness on the brink of escaping The World Beneath.
News:
Lovely series review over at A Thrill a Week.
Reviews:
"Cantrell's THE WORLD BENEATH simply blew me away: exciting, visceral, inventive, illuminating. The main character, Joe Tesla, is as charming as he is resourceful. He's an agoraphobic trapped within the dark bowels of New York City who must face a threat to the bright world above him. Full of tantalizing true secrets of that subterranean world, matched with a breakneck pacing of a shocking thriller, here is a novel that shines a light on the beauty and horror hidden just out of sight beneath the world's greatest city. So grab a flashlight and get ready an adventure like no other." – James Rollins, New York Times bestselling author of The Eye of God
"The World Beneath is a unique, non-stop action thriller…Cantrell creates a deadly underworld beneath the streets of Manhattan, where trapped hero Joe Tesla and his dog Edison battle evil below our feet for the fate of mankind. The author grabs you on the first page and drags you into the dark depths for a wild subway ride that races to a fatal finish and leaves you breathless and begging for more." – Kieran Crowley, New York Times bestselling author of HACK, A Shepherd Novel.
"An original hero with a psychological flaw, Tesla and his dog, Edison, will keep you engaged until the end of this fast-paced thriller." —  JF Penn, USA Today bestselling author
"THE WORLD BENEATH by Rebecca Cantrell is a heart-pounding thriller with an infective puzzle! Rebecca Cantrell brings to life the amazing world beneath the sidewalks of New York…a virtual page-turner!" — Publisher's Marketplace
"The World Beneath is a page-turner, whether it's from the action or characters who are so real that you can't stop watching them. The story opens with a jaw-dropping series of events that leads us into the underground world…The action serves the characters — a rare thing among most thriller writers — and, rarer still, they all have moments of sympathy, which makes hating some of them a twisted treat for the reader. Add the suspense, which grabs you by the shirt and forces you to watch it, and you have book that's a winner." — The Daily 400
"Rebecca Cantrell has created a gripping, thrilling story that is at once historical and contemporary. Historical mystery and political thriller fans (and probably cozy readers, too) will be hooked after the first page. This was an unputdownable book for me, and (from comments I've read) for many others, too. " — Crime Fiction Collective
"Cantrell has done a fine job with what I hope is the first in a series…*I "read" the audiobook version, which is very well done. It's narrated by the superb Jeffrey Kafer, who has worked with many of my favorite thriller authors, including Jeremy Robinson, Bob Mayer, and that David Wood guy. Great work!" — Thriller Central
"Cantrell has also ventured into deep, dark places — most literally — for her new novel, "The World Beneath," which plunges the reader into New York's vast subway system…a taut and dangerous struggle." — The Edge
"Cantrell's unique mystery is set in Manhattan's subway system, and Jeffrey Kafer's spirited narration delivers the story to perfection. Millionaire Joe Tesla has agoraphobia and cannot leave the tunnels of Grand Central Station complex. Kafer captures Joe's unfortunate malady and dynamic personality, along with the threatening fugitives he meets while underground and the people he hires to help him. Particularly believable is Vivian, tough but kind and determined to "guard" him. While wandering the subways, Joe discovers people hiding who are planning to use mind control on American soldiers. As Tesla uncovers more of their plans, danger escalates. Listeners are in for chills as Joe and Edison, his psychiatric service dog, close in on the criminals." — Audiofile Magazine
"The book offers an amazing view of the actual underground…Levels and levels of tunnels, many long abandoned, housing more than you might imagine. In our story alone there are hidden rooms, a missing train, secret doors. . .a very well done story. The author makes the setting easy to picture. The reader will feel the darkness, the eeriness of the underground, the pressure from the passing trains. Highly recommended!" — Mystery Suspense Reviews
"The World beneath is brimming with action, super-villains, government conspiracies and of course danger. The writing is well-matched to the pace of the story and… the author will hook you by the prologue. I really enjoyed it and I look forward to reading more Tesla adventures in addition to some other amazing looking books by Rebecca Cantrell." — Reads and Reels
"Technothriller I totally recommend. A new favorite author! This would make a fantastic movie! It's a fast paced, tight read…I still cannot wait till the next read and am already stock piling Rebecca's books to read in the future!"– Cabin Goddess
"Fast paced techno thriller with fantastic narration." — Hey Said Renee
"The coolest thing about this book was the DaVinci Code vibe where the authors paints a world full of hidden mysteries and forgotten treasures. To think that there could be secrets beneath our very feet is exciting." — Iaian Rob Wright review
"You're going to love Joe Tesla!" — The Writing Train
Prologue
November, 1949
Presidential train
En route to Grand Central Terminal, New York
Dr. Berger looked into the long dark mouth of the tunnel. This tunnel would lead to another and then another until they stopped at a secret platform under New York City's Waldorf Astoria hotel. Only one train had permission to stop there. This one—the presidential train car. It hadn't been used by the president since the war and, despite its original purpose, the car was surprisingly utilitarian—simple wooden cabinets, a stainless steel counter bearing four liquor decanters, and leather chairs bolted to the floor.
He clutched his precious briefcase with nervous fingers. The train had almost arrived at its destination, and nothing had gone wrong. Yet.
Darkness engulfed the train car as it pulled inside. The train slowed to a crawl. To see why, Dr. Berger adjusted his round spectacles and peered through bulletproof glass so thick that it had a green cast. Dim, electric lights hanging from the ceiling revealed a field of silver tracks merging together again and again as the tunnel narrowed. The engineer had slowed to switch tracks. The car was deep underneath the city now. Close.
He cast a sidelong glance at his sole traveling companion: the uniformed soldier who was tasked with protecting him and the secrets he carried. What did he know about the man?
What was there to know? The man sitting straight-backed and alert with a Thompson submachine gun flat across his lap was merely an ordinary American soldier. A soldier much like the one who'd taken Dr. Berger prisoner in Bavaria a few years before. Another square-jawed man with close-cropped hair whose narrow eyes told Dr. Berger how much he hated all Germans. Of course he did—because of the war. These American soldiers held him personally responsible for all the deaths caused by Hitler's madness, as if these soldiers could have influenced Roosevelt's decisions themselves, as if his adherence to orders was so different from theirs.
In the end, he had defied his superior's orders when he'd packed up his notes and gone to meet his destiny on a train not unlike this one, fleeing west, praying only to surrender to the Americans and not the Russians. He'd been lucky. The troops who'd stopped his train were sturdy and well-fed, chewers of gum and crackers of jokes—American through and through. Their orders regarding high-level scientists were clear, and they hadn't mistreated him.
They'd brought him to the United States, interrogated him respectfully, and paid him a good salary to continue his research. They'd even retrieved his yellow parakeet, Petey, and the upright piano he had inherited from his father. His specialized knowledge had put him in the president's own train car on a special and secret mission that would change the future.
Funny how things turned out.
"Near now," Dr. Berger said.
The soldier jerked his head. Almost a nod, but not quite. The man had probably been given instructions not to speak to him. As kind as they seemed, the doctor doubted his American colleagues trusted him. A mutual state. The wounds from the war had not had time to heal.
Dr. Berger's fingers tapped out a song on his briefcase, but instead of helping him play music, the notes in its leather interior helped him to play the human mind. The trials were promising indeed, though protocols in the United States were more complex than they had been in Germany. Here he spent too much of his time talking about safeguards, about how to minimize risk and wondering if his funding would be canceled.
He hadn't worried about such things in Germany.
The SS valued only results.
He tilted his head, certain that he had heard a familiar sound. The clacking of steel wheels against track filled his ears. The reassuring rhythm told him that every second brought them closer to their destination. He closed his eyes and relaxed.
The sound came again—like Petey's soft warble when he tapped his mirror with his rounded beak. This sound wasn't quite the same. Seeking its source, he scanned the front of the car. A small hand emerged from behind the door of a cupboard at the front of the car, and tiny brown fingers with dark nails groped the frame.
"Gott im Himmel!" The precious briefcase slid unnoticed to the floor as the doctor sprang to his feet and brushed past the startled soldier. The little hand vanished behind the wooden door as if it had never been there. But he had seen it.
Dr. Berger lurched toward the cupboard. It was impossible. It couldn't be there. It must not be there.
"Come out, little one." He eased the door to the side. Its nerves were probably on edge, too, and he had no wish to startle the creature.
The soldier stood behind him, gun trained on the half-open cupboard. "What's in there, doc?"
So, he could speak.
Dr. Berger reached inside the cabinet with one cautious hand while speaking in a gentle singsong voice. "No one will hurt you. We are all friends here."
Leathery fingers curled around his wrist, and a slight weight dropped onto his forearm. Slowly, he pulled the creature out.
"A monkey?" asked the soldier.
Not just any monkey. The animal on his arm was a female rhesus monkey. Short brown fur covered her plump body, except for the inverted pink triangle of her face. Huge brown eyes stared up into his.
"Do I know you?" Dr. Berger crooned.
He touched her soft ear and felt for a tag punched through the cartilage. His heart sped with fear, and the monkey tensed, too. He took a deep breath and hummed a few bars of Eine kleine Nachtmusik to calm them both. With one hand, he tilted her to the side to study the small piece of metal that would determine his fate.
The orange tag bore the number sixteen. The worst of all.