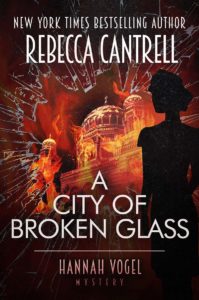 In 1938, after four years in hiding in Switzerland, journalist Hannah Vogel believes the coast is clear and takes the opportunity for a holiday with her 13-year-old son Anton. Traveling again under the name of Adelheid Zinsli, they arrive in Poland to cover the St. Martin festival, only to learn of the deportation of 12,000 Polish Jews from Germany. Hannah drops everything to get the story on the refugees, soon discovering that the wife of a friend of among them.
Running headlong into danger, she agrees to help find the woman's missing daughter—a promise which leads her straight into the arms of the SS, as well as those of Lars Lang, the lover she had presumed dead two years before. Injured, she and Anton are trapped in Berlin with Lars days before Kristallnacht—the Night of Broken Glass— where she is torn between ensuring their escape, and keeping her promise. But she can't turn her back on this one little girl, even if it plunges her and her family into danger.
Nominated for the Mary Higgins Clark Award!
Nominated for the Bruce Alexander Award!
Wonderful review of "A City of Broken Glass" in USA Today
Starred review of "A City of Broken Glass" in Library Journal "compulsively readable…Cantrell's series stands tall."
Great reviews of "A City of Broken Glass" at Publishers Weekly, Booklist, and Poisoned Pen ! PW said: "The opening of Cantrell's gripping fourth novel featuring journalist Hannah Vogel finds Vogel and her 13-year-old son, Anton, in 1938 Poland…Cantrell poignantly conveys the plight of Nazi Germany's Jews through the story of one child."
Great mention of A City of Broken Glass at Library Journal Mystery Preview, Grasping the Unfathomable
News for A Game of Lies and Hannah Vogel:
"In this fourth novel in a superbly written historical mystery series, Rebecca Cantrell once again tells a fast-paced story about the indomitable Hannah Vogel, a journalist, mother and fervent anti-Nazi Berliner…Set against the haunting backdrop of Kristallnacht, the Night of Broken Glass, the novel holds many surprises for Vogel, who becomes trapped in Berlin with Anton and a former lover. Cantrell drops you into 1930s Berlin, and the fear and chaos swirl around you." — USA Today
"Cantrell's fourth historical featuring journalist Hannah Vogel (after A Game of Lies) is compulsively readable. A palpable sense of dread builds, as we know that Kristallnacht, the Nazi pogrom of November 1938, is imminent. This award-winning series succeeds at weaving a very personal story into a well-researched historical survey. In an increasingly crowded genre period, Cantrell's series stands tall." — Library Journal (starred)
"Rebecca Cantrell's historical thrillers featuring reporter Hannah Vogel tell the story with frightening realism…a terrifying tale of courage and love, betrayal and murder, filled with Cantrell's keen eye for historical detail and her deft hand at storytelling. A City of Broken Glass, like its predecessors, rings with authenticity as the pace of the world's greatest atrocity picks up deadly speed." — Richmond Times-Dispatch
"In the fourth book in the series, Hannah Vogel and her son are forced into Berlin from a Polish refugee camp. In Berlin she searches for a lost girl, reunites with an old love, and desperately tries to save herself and Anton from a city on the verge of shattering.
"Cantrell's heroes have to love even into the maw of death. Combined with Cantrells' vivid portrayal of place and time, such soul-searing action and character development makes for an amazing read, which will feed your heart and soul as well as entertain you." — Judith Starkston at Poisoned Pen
"The opening of Cantrell's gripping fourth novel featuring journalist Hannah Vogel (after 2011's A Game of Lies) finds Vogel and her 13-year-old son, Anton, in 1938 Poland…Cantrell poignantly conveys the plight of Nazi Germany's Jews through the story of one child." — Publishers Weekly
"Set just before, during, and immediately after Kristallnacht, when the Nazis declared open warfare on Jews, the novel uses its historical moment to full advantage…Cantrell mixes history and human drama effectively, and series fans will willingly stay the course." — Booklist
"Rebecca Cantrell in this the fourth book in the Hannah Vogel series has once again written an exciting first person narrative tale about a German female journalist who hates the Nazis. She cleverly uses the format of the old fashioned adventure story to impart lots of information about the treatment of Jews, the Nuremberg Anti-Semitic Laws, the classification of "mischlings" of the first and second degree based on the number Jewish grandparents, the blood libel, the wild west novels of Karl May and lots more. This series is very well researched and it is the details that give the reader the atmosphere of the 1930s, when the world was on the brink of a great tragedy." — Crime Scraps
"A City of Broken Glass" is loaded with action, intrigue, a very real dose of human characters and humanity, all of which is set in a world that is quickly spinning out of control and into the inevitable bloodshed that was World War II…will keep you turning page after page. If you are looking for a good mystery, high speed thriller, something that will not only keep you interested but have you rooting for Hannah Vogel, all the way to the end, then "A City of Broken Glass" is for you." — Berlin Brigade (book of the month)
"With compelling characters and a narrative which makes it hard to put down, A City of Broken Glass combines romantic thriller with historical tragedy." — Historical Novel Society
"Rebecca Cantrell's "A City of Broken Glass" is smashing! But each novel in the Hannah Vogel series has been a thrilling historical ride so far, and A City of Broken Glass is no exception. Just as Hannah reaches another climax in her life, the world she lives in is just on the edge of its own, teetering between hidden and open oppression. The story flowed in a smooth combination of action, drama, and romance. And I loved every step taken." — Natalie Gorna
"Overall, this book had awesome coming from all over the place. Characters, their development, plot-driven, amazing atmosphere and even some cool spy action!! 😀 Even though I started reading this series by reading the FOURTH book I definitely want to go back and read the other three." — Cover Analysis
"The latest Hannah Vogel historical thriller (see A Game of Lies) is an exciting tale that brings to life the growing Nazi terrorism spreading anti-Semitism like a plague from Germany into Poland though the plights of Ruth and Miriam, and other displaced refugees. Fast-paced and loaded with suspense." — Harriet Klausner at Follow the Clue
"Although the story is fictional (it's based on the real Kristallnacht), Cantrell's prose is so vivid that the reader feels involved in incidents that could quite easily be real, especially since the narrative is written in the first person from Hannah's point of view. The next book in the series is in the works, and it can't come soon enough!" — Crime Fiction Collective
"A City of Broken Glass has suspense, action, romance, drama, and history. The complicated love story between Lars and Hannah fuels the story as the couple go looking for the little girl and encounter threats against their lives. There is never a dull moment in The City of Broken Glass." — Krysten Hager at Author's and Appetizers
"Another solid historical mystery from Rebecca Cantrell. The previous books have jumped around two years between them so in the next installment Hannah should be thrust into a Europe at war. Can't wait to see what trouble she gets into there." — Criminal Element
Interviews: The Big Thrill, The Edge.
A herd of black and white Friesian cattle, a pair of mismatched draft horses, and a blacksmith's shop passed by the Fiat's windows. Nothing looked any different from any other Polish village. Yet today there were twelve thousand reasons why Zbaszyn was no longer a simple farming town. If only I could find them.
"Where do we go, Frau Zinsli?" Our driver, Fräulein Ivona, used the only name of mine she knew, my Swiss alias. My real name was Hannah Vogel, but in all of Poland, luckily, only my son Anton knew it.
"On." I pointed forward, although I had no idea where the refugees were housed.
Once I found them, I would talk to as many as I could, then the local doctor, the townspeople, and the mayor if I could. Getting quotes should not be a problem, as I warranted that many in Zbaszyn spoke German. Less than twenty years had passed since it was ceded from Germany to Poland in the Treaty of Versailles.
We approached a large brick stable with armed Polish soldiers clustered in front. They stood awkwardly, as if not certain why they were there, and kept stealing glances inside. Somehow, I did not think they guarded horses so closely.
I directed Fräulein Ivona to stop. She rolled the car to a halt next to a cluster of military vehicles. Clad in a tight white dress and highheeled pumps, shoulder- length ash blond hair perfectly combed, and China red lips made up into a Cupid's bow, she stroked a languid hand over her hair, checking that every strand was in place before she turned off the engine.
"Anton," I said. "Wait in the car."
He gave me a look of utter disbelief before ordering his features.
"All right."
I stopped, fingers on the door handle. He never gave in so readily. I studied him. He had no intention of staying put. The moment I was out of sight, he would follow. My thirteen- year- old daredevil would plunge straight into trouble and stoically bear the punishment later. As if reading my thoughts, he gave me a deceptively innocent smile. Freckles danced on the bridge of his nose.
I had to smile back.
I had brought him to Poland to enjoy time together while I researched a light feature piece about the Saint Martin's Day festival. Every November 11, Poznan held Eu rope's largest parade to celebrate the saint, known for his kindness to the poor. 1938's event promised to be grand.
The assignment should have been fun, but I viewed it as punishment. I had been banished to this backwater from Switzerland because my recent anti- Nazi articles had resulted in a series of threatening letters, and my editor at Zürich's Neue Zürcher Zeitung did not want to risk anything happening to me. If I had been a man, he would not have cared.
But I was not, so I had resigned myself to enduring my sentence quietly until I read the newspapers this morning and discovered that Germany had arrested more than twelve thousand Polish Jews and deported them across the border. I could not let that pass unnoticed, so I had headed to Zbaszyn to see the refugees myself. The paper had no one nearer. My editor would grumble, but he would also be grateful.