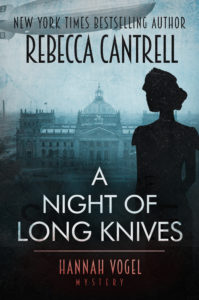 Following the events of A TRACE OF SMOKE, journalist Hannah Vogel has been in hiding in Bolivia with her young ward, Anton, for the past three years. She believes she has outwitted Ernst Röhm, the head of the Nazi Party's Storm Troopers who believes himself to be the boy's father, so she seizes the offer from a newspaper to cover the journey of a zeppelin from South America to Switzerland, particularly as it will allow her a rare opportunity to meet with her lover, Boris Krause. When the zeppelin is diverted to Germany, she knows she's walked straight into a trap.
Röhm, facing expulsion from the party as a result of rumors of his homosexuality, has decided to claim his alleged son, and marry Hannah as a beard. Unfortunately for him, his solution has come too late. Hitler has supplanted the Storm Troopers with the SS, headed by Himmler, and the resulting purge, forever known as The Night of the Long Knives, has begun. Hannah manages to escape in the melee, while Röhm faces a firing squad.
Unfortunately, she and Anton were separated, and Hannah must enlist all her allies—and a few of her enemies—to track him down before the Gestapo can. With nowhere else to turn, Hannah finds herself at Boris' door in a wedding dress. She expects a safe haven, but she learns that her presence and search for Anton are putting Boris at risk. During her absence he has been helping Jews escape and he is already under suspicion. Finally she traces Anton to the home of Röhm's mother, who offers a deal—her son's body in exchange for Anton. Traveling to Berlin, Hannah is caught up in the Nazi's continuing purge and must learn to trust—and protect—those she has loved, and hated, in order to survive.
"Cantrell is excellent at evoking the fear and intimidation of 1934 Berlin and Munich, as the Nazi party continues to rise to total domination of German society. She is equally adept at writing fast-paced action adventure…The author whisks the reader along through her marvelous confection of danger and excitement, and you'll avidly devour the whole of A NIGHT OF LONG KNIVES. " — Mark Rose at bookgasm
"Cantrell knows suspense, and in Hannah Vogel she has created a compelling character. The first person narration draws you right into the action, and pairing that with graphic, visceral descriptions makes this book a hard one to put down…emphasizes the chilling dehumanization of the Third Reich." — Susan Engberg at Bust
"A Night of Long Knives, Rebecca Cantrell's second novel featuring journalist Hannah Vogel, again flawlessly captures Germany's descent into darkness under growing Nazi power. Can Hannah survive—and can she protect her adopted son Anton from his murderous Nazi father, Ernst Rohm?" — jewishjournal.com
"In the midst of an action-filled plot, A KNIGHT OF LONG KNIVES will make you think. It should remind you of all that we take take for granted on a daily basis. The blending of historical facts and the passionately imagined lives of these characters makes for a thought-provoking, riveting read." –Jen Forbus at jensbookthoughts
"A Night of Long Knives" does what I love historical fiction to accomplish. It makes me interested in learning more about the times presented and as a sequel it shows characters from previous books moving forward as individuals and evolving in their relationships with each other…Brava on a job well done and I'm looking forward to more adventures with Hannah and Co." — Jayne at dearauthor.com
"This is a fascinating, meticulously researched view into Germany in the 1930's. Hannah again shows her bravery matches anyone, and she finds a way to deal with some of the world's most evil people, coming out on top…The characters are fully drawn and both inspiring for bravery, as well as inspiring hate, for their horrific actions. I felt like I was in a Germany of a time we wish could be erased. The setting is extraordinarily well done. I look forward to the next book in the series." — Maggie Mason, Deadly Pleasures Magazine
"Rebecca Cantrell has written another exciting thriller and with Hannah Vogel's sometimes frenetic first person narrative she gives the reader a feeling of what it must have been like to be in Germany during those terrible years. She has cleverly blended her fictional story in with real life events and real life characters, such as British journalist Sefton Delmer, while cleverly imparting snippets of information that add to the atmosphere." — CrimeScraps
"A Night of Long Knives is compelling, exciting, and entertaining reading. This is a great read for anyone who wants to disappear inside a great story. Whether you like novels set during World War II, suspense, or just a great plot line with a strong character, this book will not disappoint. Don't miss this one." — Krysten Hager at Pop Syndicate (5 stars)
"Three years after the events of A TRACE OF SMOKE, journalist Hannah Vogel is living in South America with her adopted son, Anton, and vows never to return to Germany while the Nazis are in power…This is a terrific follow–up to SMOKE; the writing is polished, and compels you to finish the book in one sitting." — Bobby McCue at The Mystery Bookstore
"Hannah Vogel's only hope to rescue her kidnapped son is the notorious Ernst Rohm-head of the Nazi's SA-a man Hitler ordered to be murdered. The thrilling and powerful follow-up to last year's A Trace of Smoke." — The Mysterious Bookshop
"A race-a"gainst-the-clock thriller… Cantrell keeps the close calls and cliffhangers coming." —- Kirkus Reviews
"Once again, Cantrell nails the prewar German landscape, although this time, with the Nazis in power, the mood has gone from Weimar decadence to tight-lipped uncertainty…the appeal here is all about atmosphere and the historical moment." — Booklist
"Cantrell's first book was well received, winning the 2010 Bruce Alexander Memorial Historical Mystery Award, being nominated for the Romantic Times Best Historical Novel of 2009 and being listed in Deadly Pleasures Magazine's list of book picks for 2009. Her second is more polished, the story more intense, the climax more exciting." — West Hawaii Today newspaper
"A Night of Long Knives is written in the first person, entirely from Hannah's point of
view. With brevity and elegance, Rebecca Cantrell provides enough narrative to enable a
reader who missed the first novel or who has forgotten key details to make sense of
Hannah's history and to recall the numerous characters from the first novel who make
return appearances in this one..I certainly encourage you to check [it] out! " —Green Man Review
"A Night of Long Knives is a fascinating Depression Era tale that centers on the Nazi's
strengthening their power over all aspects of German society. The story line is
action-packed with a courageous heroine…historical readers will enjoy Rebecca
Cantrell's exciting thriller rooting for Hannah the heroine." — GenreGoRound Reviews
"Rebecca Cantrell is an amazing writer. To read this book is to be Hannah (an experience
that is heightened because it's written from her point of view); to see, feel and almost
smell what she does. Set aside a large block of time to read A Night of Long Knives, as
you will not want to put it down once begun." — Stuff and Nonsense
Wind rustled in grass browned by the drought plaguing Europe. Unseasonable heat and a parched smell invaded the gondola. The Graf Zeppelin's massive shadow stole over tidy Swiss houses, streets, and fields. I wiped my palms on my thin cotton dress, sweating as much from fear as heat. I had not been so near Germany since I fled three years before, after kidnapping the purported only son of Ernst Röhm.
Röhm was Chief of Staff of the storm troopers and commanded thirty times more men than Hindenburg, the president of Germany. Yet reports of homosexuality dogged him. Doubts the small boy squirming in front of me could quash. Anton provided final proof of Röhm's virility.
"Good day, Frau Zinsli," said Señor Santana. Like everyone else in the past three years, he used the name on my forged Swiss passport. I had left my real name, Hannah Vogel, behind. Except for brief visits to London to meet my lover, Boris, I had not had a true conversation with an adult I trusted in more than one thousand days.