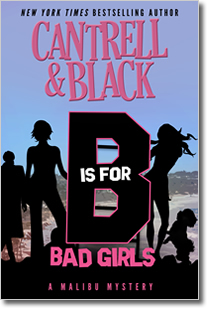 From New York Times Bestseller Rebecca Cantrell and Sean Black comes the sequel to "A" is for Actress and another fast-paced, funny novel that's perfect for fans of Janet Evanovich.
Maloney Investigation's newest private detective, Sofia Salgado, is back on the case that turns into her mother's worst nightmare when she ends up undercover in one of Malibu's many rehab clinics—complete with pictures and an offer to star in a reality TV show.
But the clinic isn't a safe place. If Sofia doesn't solve the find out who killed an up an coming rock star soon, she and all the bad girls she meets inside, including rock star Brandi Basher and reality TV train wreck Monaco Jane, might just end up going to the big rehab center in the sky.
Chapter One
Sofia Salgado had paint in her hair. After a broken toaster had spewed smoke and soot all over her ceiling, she'd decided to repaint it herself. She'd budgeted a couple of hours for the task, but so far all she'd accomplished was putting newspapers on the countertops and stove, covering the edges with blue tape, and somehow managing to drip yellow paint on her head.
She looked around at the messy mobile home she'd bought with the money she'd made starring in a TV show called Half Pint Detective. Even in its current state, she loved everything about the place. It had a full kitchen, a cute breakfast nook, a living room, two bedrooms, and two bathrooms. It reminded her more of a ship than a regular house—lots of wooden built-ins, smaller than average appliances, and a view of the Pacific Ocean from her living room.
The mobile home sat off the beach in Malibu, California, in a trailer park called Nirvana Cove. The park was originally built for people with ordinary incomes, or folks who wanted a cheap weekend or summer getaway, but had become crazy expensive in the past thirty years. Now some of the trailers sold for over a million dollars. She'd paid the money because it was only a short walk from the ocean, and nobody bothered her here in her own little slice of Paradise.
Still, right now, a hotel would be nice. One someone else had already painted. Something clean and tidy. With room service.
"Hello!" Emily called, from outside the front window.
"Crap!" Sofia muttered, under her breath. She looked guiltily at the yellow smiley-faced clock on the kitchen wall. Mr. Smiley said Emily was two hours early. Her sister was usually late, and Sofia had counted on it this morning. She hadn't even showered, and wore beat-up clothes under her white painter's jumpsuit.
Emily wore a red sundress and was, as always, perfectly turned out. When they were kids everyone said Emily looked like a little lady, Sofia like she'd fallen out of a tree, then rolled down a hill and into a duck pond.
Emily waved through the window at Sofia. Sofia waved back.
"Anyone home?" a little girl's voice asked, right before something that sounded like a sledgehammer pounded on Sofia's metal front door. It quaked, as if ready to come off its hinges.
Sofia sprinted to rescue it, tripped on the half-full tray she'd left in the middle of the kitchen, and splashed out yellow paint. Good thing she'd put down those newspapers. Too bad about her shoe.
"Now, Violet." Emily sounded manically cheery. "Leave that."
Sofia flung open her front door. Her seven-year-old niece held a wooden leg that Sofia could have sworn was usually attached to the table on her front porch. She caught Violet's arm mid-swing and twisted it out of her hand. The bistro table stood at an accusing angle on its three good legs. The marble top looked ready to slide off.
Sofia summoned up her former child-star training and gave the whole family a bright smile. "It's great to see you!"
She was being so perky her face hurt. But she meant it. It was always great to see Emily and her kids. She took off her paint-covered shoes and dropped the table leg on the chair seat. She'd have to fix it after the kids left. No point in putting it back on only to have them take it off again. Luckily, it was an IKEA table—easy to take apart and put back together.
Violet gave a shrug in the direction of the listing table with its three legs. "It was loose."
Her brother, six-year-old Van, hastily stuffed something into his pocket. It looked like a screwdriver, but it couldn't be. His parents kept all of the tools in their house locked up tight.
"We really appreciate you taking the kids!" Emily beamed up at her husband, Ray. He had on black board shorts and a white T-shirt. They looked as if they were about to head out on their honeymoon, happy and guilty at the same time. "I know we're early. Is that OK?"
"Of course," Sofia lied. If they'd come on time, the ceiling would have been done and everything put away. At least, that had been the plan.
"You can always call us if it gets bad," Ray said. "We can come right back."
"It's only for the weekend!" Sofia said. "The kids and I will have some great adventures together. I thought today we'd go—"
Sofia's phone played the first few bars from the theme of the old TV show Dragnet. Everyone looked at it.
"Sorry, that's the agency," she said, pulling the phone out of the pocket of her paint-splattered overalls.
"Malibu PI with a screen-worthy presence…definitely a series I will continue to follow." — Deborah Ledford
"If these books are going to follow through and cover the entire alphabet, then here's hoping the next 24 books allow us to embark on a journey to glimpse firsthand and witness the emotional growth and maturity of this amazing young lady. I have a feeling we're going to be laughing all the way!" — SuAnn Thompson