Berlin, 1931.
Sexy cabaret star Ernst Vogel navigates the increasingly fraught world of Berlin in the last years of the Weimar Republic. Nazi Storm Troopers and Communists fight in the streets and in his club. Wealthy Jews and intellectuals think of fleeing. Desperate sexual and social outcasts cram the famous nightclubs to wring out one last dance.
Ernst makes a promise to help the new young cigarette boy, but the boy disappears while Ernst is on stage. On the way home, Ernst finds his bloody body in an alley. After realizing the police don't care about the death of one young hustler, Ernst determines to find justice on his own.
His search leads him into the dark heart of Berlin, where he encounters the truth about the boy's death, and fights to save his own life.
Read an excerpt below.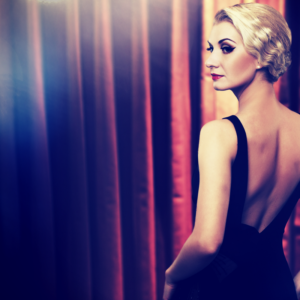 Berlin, 1931
Standing at the corner of the stage, Ernst Vogel spied on his audience through a tiny gap in the curtain. Men, women, and indeterminates sat at tables ringing the stage of Club El Dorado. Every so often someone would glance at the stage, then back to his or her companions. They were anxious to hear The Nightingale.
Uschi, the new cigarette boy, stood near the entrance, right cheek sensuously side lit by the lamp over the door. Men swarmed him like sharks to chum. The boy was young, beautiful, and new. A few years ago, it had been Ernst who stood at the center of the frenzy, but lately, his admirers had ebbed. Except on stage. On stage, he commanded everyone's respect.
He had to admit: Uschi had marvelous gams. His uniform showed them to advantage— silky pumps, stockings, and a knee-length petticoat topped by a crimson skirt. A matching jacket with two rows of gold buttons clung jauntily to his slim frame. A cunning red and gold fascinator rested in his short blond hair. His tray displayed cigarettes, cigars, matches, gum, and roses on a red velvet cloth. Although it looked light enough looped around his neck and shoulder, Ernst knew the tray would feel like an anvil by the end of the night.
Uschi's admirers included the usual assortment—a brunette with a blue workman's cap, a Communist or someone playing at it; an older businessman with a monocle; and a muscular blond dressed in dreary Nazi brown.
Every night his audience contained more brown shirts. Their propaganda promised to exterminate his kind like vermin, and he felt a frisson of fear and power watching them sit spellbound by his show.
And they were now spellbound by Uschi. The boy beamed, lit up by the proximity and the intensity of masculine attention. His lipstick was too orange, the kohl around his eyes inexpertly applied, but he would learn. Ernst would teach him. The fresh-faced years went by so fast. In this uncertain world, they had to look after each other.
As if he knew Ernst was looking, Uschi glanced at the curtain. Uschi had asked for advice earlier, but Karl, his pianist, had called him backstage before he could find out more. Ernst had promised to talk to him after the show.
"One minute!" Karl spoke in a ridiculous high class accent, as if he believed he was related to the Kaiser, and had fussy manners to match. A handsome man with sharp cheekbones, clear blue eyes, and silver-blond hair, he decorated the stage nicely. If he had a boyfriend, or a girlfriend, Ernst had never seen them, but Karl never lacked for offers.
Karl peeked through the curtains, too, and then walked to his piano. Once there he held up a long finger in case Ernst had mysteriously gone deaf. Karl liked everything just so.
Ernst positioned himself in front of the microphone and smoothed his long silver dress. He wished he could check his makeup, although he knew it was perfect—lips a scarlet bow, blue eyes carefully outlined, pale eyelashes thick with mascara, greasepaint lending his face an alabaster sheen, and his mole darkened to stand out against his perfect skin. He stroked wrinkles from his elbow-length silk gloves and touched his faux diamond choker. It would sparkle so when the spot hit it.
"Ready now." Karl held his hands poised above the black and white keys. His silver bow tie shone in the band of light from under the curtain and light glinted off his ungainly gold ring. Ernst was certain the ring was too large and ostentatious to be real.
Outside, Francis delivered a sultry introduction ending with the phrase, "Presenting The Nightingale!"
The curtains parted. The spotlight hit Ernst. The audience leaned forward hungrily, and he ascended to a heaven of white light and longing. Conversations abandoned, drinks forgotten, every eye traced his movements, and every ear yearned for the sound of his voice. He owned them.
They remained spellbound through his entire set. Karl played flawlessly in the background, but nobody spared him a glance. As it should be.
The applause at the end of his set sounded like pure love. He basked in it until he felt it ebb, then lifted his hand to cue the curtain. Always leave them wanting more.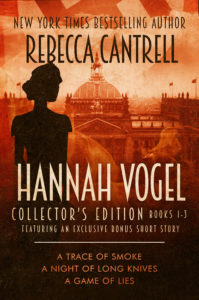 You can find the rest of this exclusive short story, plus the first three mysteries in the Hannah Vogel series, in the Box Set Collector's Edition: