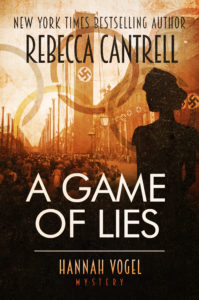 Journalist—and part-time British spy—Hannah Vogel is back in Berlin to cover the 1936 Olympics. At least, posing as travel reporter Adelheid Zinsli, lover of SS officer Lars Lang, that's her cover story. Rather, she's collecting Nazi secrets from Lang and smuggling them back to Switzerland.
During the opening games, Hannah slips away to meet her mentor, Peter Weill, who has tasked her with carrying a package out of the country. He collapses at her feet, presumably poisoned, and Hannah must scramble to create a cover story, particularly as she is surrounded by former colleagues who could identify her.
The cover-up drives a deeper wedge between Hannah and Lars—whose alcoholism has increased, and whose loyalty she has begun to question. To ensure her safety, and clear Lars' doubt, she sets out to discover the identity of Weill's killer, only to be driven into the arms of Boris, a former lover. In order to get Weill's package out of the country, she must decide whom to love—and whom to trust—before her true identity is revealed.
A Game of Lies has garnered quite a bit of good press:
"Set during the 1936 Berlin Olympics, this chillingly realistic novel (the third in a series) stars the alluring and brave Hannah Vogel. Posing as a reporter named Adelheid Zinsli and as the lover of her co-conspirator, SS officer Lars Lang, Hannah is working as a spy for the British doing what she can to expose the Nazis' heinous plans. When her mentor Peter Weill, another anti-Nazi, dies in her arms at the Olympic Stadium, Hannah must solve his murder and find the package he wanted her to smuggle into Switzerland. There's so much to love about this novel: the setting, the characters, the sexual tension between Hannah and Lars, the political and personal betrayals and the Nazis' dastardly attempts to cover up their true intentions regarding Europe's Jews." — USA Today
"A Game of Lies is magnetic and seductive." — examiner.com
"The third entry in Cantrell's award-winning historical series (A Trace of Smoke; A Night of Long Knives) is a fast-paced, action-packed tale set in Berlin during the 1936 Olympic Games…Cantrell's meticulous research and her vivid characters and strong plot—based on real people and actual events—will have special appeal to fans of historical fiction related to World War II Germany.— Library Journal
"Intrepid German reporter/spy Hannah Vogel is back in Rebecca Cantrell's A Game of Lies, her third mystery set in 1930s Berlin…Cantrell…easily drops the reader into Nazi Germany. She weaves period details and real people into the story, making it both fascinating and educational…[Hannah's] fight for a better world is noble, and her perseverance is something to admire. An absorbing tale of espionage set in Berlin during the 1936 Summer Olympics." — Shelf Awareness
"Cantrell skillfully evokes the nightmare of a Hitler-run Germany, where even former doubters have sworn allegiance to the dictator, in this roller coaster of a novel. Add her deft hand with characters—Hannah and Lars are, as always, fully drawn and further developed, and the reader is in for a scary, informative and entertaining read. And the denouement points to further novels in this celebrated and thoughtful series." — Richmond Times-Dispatch
"Cantrell's ability to build suspense along with her attention to detail and historical accuracy make for an excellent and gripping read. Her character, Lars, is incredibly intriguing…The dynamic of their relationship is fascinating…Cantrell has done it again in writing another book that is impossible to put down. I'm eager to read what happens next in the lives of Lars and Hannah. This is by far the best fiction book I have read this year." — Authors & Appetizers
"Rebecca Cantrell fans eagerly await Tuesday's arrival of "A Game of Lies," the third in her series starring Hannah Vogel, a journalist in Berlin during the early years of Nazi rule. In the first book, "A Trace of Smoke," Vogel uncovers the murderer of her drag queen brother. In book two, "A Night of Long Knives," she tangles with Hitler confidant, SA Commander Ernst Rohm. In number three, she investigates the killing of her mentor against the backdrop of the 1936 Berlin Olympics. Mixing historical figures and events with fictional characters and situations, Cantrell's books are a blast. " — Boston Herald
"Once again Hannah goes toe to toe with the Nazis in order to right a wrong and try to get the truth of what they're doing into the hands of people she hopes will be able to do something about it…looking forward to the next one." — Recommended Read at DearAuthor.com
"Cantrell sets an oppressive mood –appropriate for the setting and lightened only by the gutsiness of Hannah and other characters. A Game of Lies is an intense and worthy addition to a taut, fascinating series." — Sacramento News & Reviews
"The murder of her mentor compels a World War II agent out of the shadows and into danger…1936. Journalist Hannah Vogel is in Berlin, ostensibly to cover the Summer Olympic Games for travel newspapers, but she's actually engaged in espionage…Hannah's third adventure is an uneasy mix of romance, complicated thriller and mystery, greatly enhanced by the author's vivid portrait of prewar Berlin." — Kirkus Reviews
"A Game of Lies does something some books fail to do, it successfully conveys the atmosphere of fear prevailing in Nazi Germany. It also relates, amidst the thrilling spy story with its twists and turns, the background story of an Olympics that is thankfully remembered more for Jesse Owens four gold medals than the Nazi propaganda. I can highly recommend the Hannah Vogel series, and A Game of Lies is a worthy addition." — Crime Scraps
"Hannah Vogel…returns to Berlin in A GAME OF LIES, the third of Rebecca Cantrell's thrilling series featuring Germany and Nazi power just prior to the start of World War II…Overall, it's a good addition to the series…one looks forward to the next one to see how Vogel will continue to cope with the Nazi menace." — Bookgasm
"…simply stunning. With the backdrop of the Olympics, Cantrell takes us to a time where the Nazi's were forced to put on a more civilized front…While it is possible to go to modern Germany for a tour, for $25 you can go back in time and see the pre WWII Germany as a spectator. That is a real bargain." — Deadly Pleasures Magazine
"Well-paced… Cantrell does a fine job evoking the period." — Publisher's Weekly
"Cantrell uses the Olympics backdrop to good effect here, setting Jesse Owens' triumphs against the gathering storm…the prewar mood of uncertainty turning to terror remains palpable, and the climax contains some genuine surprises." — Booklist
"This third Hannah Vogel mystery is fine as a stand-alone, but more enjoyable if you have read the previous books. Cantrell combines interesting characters with period details to create the feel of 1936 Berlin. The shifting allegiances speak of the stress of living in the pressure cooker of a Germany where the Nazis are steadily gaining power." — RT Book Reviews
"Filled with twists and timely, this exciting espionage thriller occurs while the world enjoys the Berlin Games…Vogel is a super heroine who risks her life to raise the warnings about the Nazi war machine while fearing her contact will betray her. Readers will appreciate the aptly named A Game of Lies as the host country dominated the event." — Mystery Gazette
"A Game of Lies works as a murder mystery and a spy novel. That's not an easy thing to accomplish but Ms. Cantrell does a very good job of it. There isn't a lot of violence or overblown action typical of 'men's' spy or adventure novels. That makes sense as a good spy doesn't want to attract attention. But a good book does. A Game of Lies is a good spy novel that should attract your attention. It's a worthy addition to the field that includes Alan Furst, Joseph Kanon, James Benn and Helen MacInnes. " — Mystery One Bookshop
The crowd pushed the three of us between the Marathon Towers toward the Berlin Olympic Stadium. The left tower displayed a simple clock. On the right, both politically and geographically, hung a twisted
iron cross— the swastika. I understood the message: It was 1936, and the time of the Nazis had come.
Inside the stadium, I shied away from the enclosed white cabins that signaled press boxes. The journalists inside knew me as German crime reporter Hannah Vogel, wanted by the Gestapo for kidnapping the young son of the now-deceased Ernst Röhm. I nervously tilted my wide- brimmed hat to conceal my face and moved with the crowd down the stairs. Surely I would be difficult to notice among so many faces.
My current identity was Adelheid Zinsli, neutral Swiss reporter and, hopefully incognito, part- time spy for the British. I looked over at my contact, SS Hauptsturmführer Lars Lang, as we moved toward our seats in the stadium. Years of our deadly game made most trips feel routine, but this time I was frightened.