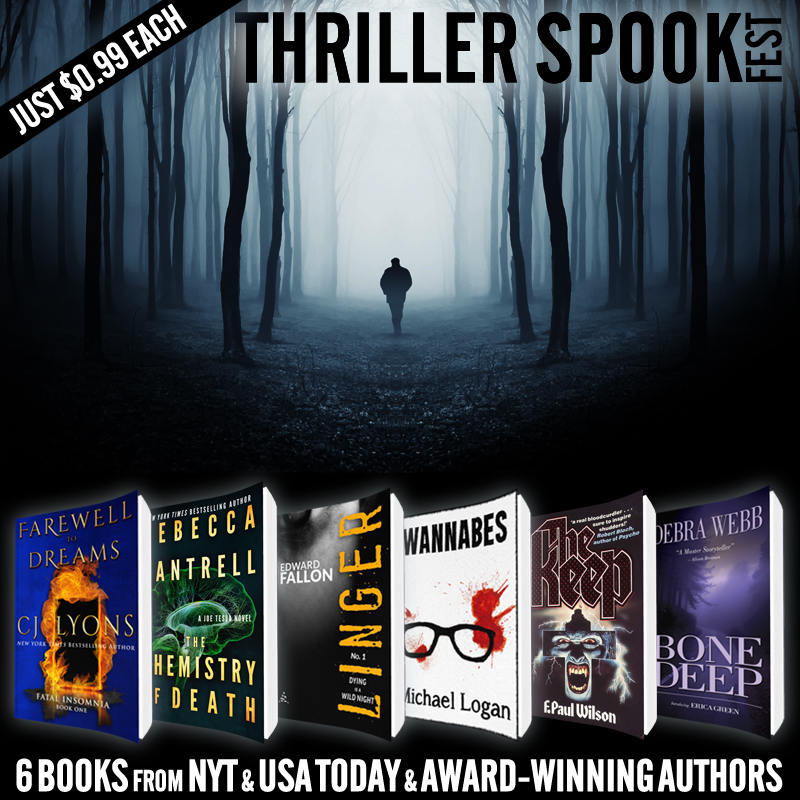 Ready to get spooked? Perfect for the most bone-chilling time of the year: six thrillers from six bestselling authors, each with a paranormal or psychic twist. Best of all? They're each just $0.99. Fill your e-reader for less than $6!
FAREWELL TO DREAMS (Fatal Insomnia Book 1) by CJ Lyons
In the chaos of the ER, functioning without sleep is a prized skill. But even Dr. Angela Rossi will admit that five months is far too long. Then a dead nun speaks directly into Angela's brain while Angela is holding the nun's heart in her hand. "Find the girl," the nun commands. "Save the girl."
Aided by a police detective fallen from grace, Angela searches the midnight catacombs beneath the city, facing down a ruthless gang leader and stumbling onto a serial killer's lair. As her symptoms escalate in bizarre and disturbing ways, Angie realizes exactly how serious her illness is.
She might be dying, but she's finally choosing how to live…
Learn more and get FAREWELL TO DREAMS on Amazon, Barnes & Noble, iBooks, and Kobo for only $0.99.
THE CHEMISTRY OF DEATH (Joe Tesla Series, Book 3) by Rebecca Cantrell
Sticks and stones may break my bones, but words can never hurt me…or can they?
In the third thrilling installment of this award winning series from New York Times bestseller Rebecca Cantrell, tortured genius Joe Tesla is on the trail of a sadistic serial killer who charms his victims into the bowels of the Manhattan subway system–and who holds the keys to Joe's crippling condition. Can Joe stop the murderous rampage of this silver-tongued killer, or will he become the next victim?
Learn more and get THE CHEMISTRY OF DEATH on Amazon, Barnes & Noble, iBooks, and Kobo for only $0.99.
LINGER (A Linger Thriller, Volume 1) by Edward Fallon
Veteran major crimes detective Kate Messenger has a problem on her hands: a family, slaughtered in their own home, with not a single clue or a shred of DNA that points to the butcher who killed them.
Every crime scene has a smell. A look. A trail of DNA.
It also has a feel. An emotional residue that lingers, just waiting to be absorbed. To be experienced. To be interpreted.
Only the man and boy know this. And now Kate will discover why.
Learn more and get LINGER exclusively on Amazon for only $0.99.
THE KEEP (The Adversary Cycle Book 1) by F. Paul Wilson
"Something is murdering my men."
Thus reads the message received from a German commander stationed in a small castle high in the remote Transylvanian Alps. And when an elite Nazi SS extermination squad is dispatched to solve the problem, the men find a something that's both powerful and terrifying. Invisible and silent, the enemy selects one victim per night, leaving the bloodless and mutilated corpses behind to terrify its future victims. Panicked, the Nazis bring in a local expert on folklore–who just happens to be Jewish–to shed some light on the mysterious happenings. And unbeknownst to anyone, there is another visitor on his way–a man who awoke from a nightmare and immediately set out to meet his destiny.
The battle has begun: On one side, the ultimate evil created by man, and on the other… the unthinkable, unstoppable, unknowable terror that man has inevitably awakened.
Learn more and get THE KEEP exclusively on Amazon for only $0.99.
WANNABES by Michael Logan
Celebrities are mobbing London's laser clinics as a deranged wannabe bumps off A-listers, believing he can absorb their powers and become famous by taping their tattoos to his body.
Washed-up pop star Jackie Thunder isn't joining the stampede. Jackie figures that if he can get on the killer's hit list, without the inconvenience of actually being murdered, he'll gain the publicity needed to reignite his career.
But there's more at stake than Jackie can possibly imagine.
With humanity's collective soul at stake, how far will Jackie go to reach the top?
Learn more and get WANNABE exclusively on Amazon (and Amazon UK) for only $0.99.
BONE DEEP by Debra Webb
Jill Ellington's twin sister hasn't spoken a word since she allegedly murdered her husband, and her three-year-old son is missing. No one in the small, idyllic town of Paradise saw or heard a single thing. Jill is going to need a miracle to uncover the truth.
Dr. Paul Phillips has a gift or a curse depending upon how sober he is when ask. He agrees to review Jill's case to settle an old debt but five minutes in Paradise and he knows he has made a monumental mistake. Yet somehow Jill makes him yearn to be the miracle she desperately needs.
Together, they uncover bone deep secrets that will rock the town of Paradise—if they can survive long enough to tell.
Learn more and get BONE DEEP exclusively on Amazon for only $0.99.
Happy reading! Don't forget to leave the lights on…just in case.