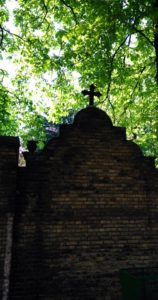 I'm part of a group of mystery writers in the Dark Crimes Storybundle, and I put this question to them: 'what's the coolest way you ever killed someone?' I followed that up with 'in a book, of course, in a book.' None of them were the slightest bit surprised. They're a tough group.
I know to the non-writer it sounds like a gruesome question, but since we write murder mysteries, someone has to die and, as my sometime collaborator, James Rollins, once said, "Never kill someone twice in the same way." I think he was talking about characters in a book. Or at least I hope he was! I better be careful around him.
And around my fellow authors. Here are a few bloodthirsty responses that will make me keep a close eye on them.
Melissa Yuan-Innes:
"In honour of Harry Houdini, an escape artist/Elvis impersonator has himself chained and nailed into a coffin and lowered into Montreal's St. Lawrence River, but can't break free. Dr. Hope Sze must resuscitate Elvis and figure out who sabotaged his stunt. [Terminally Ill, Hope Sze book #3; international Amazon link]."
This one wins for style–Houdini and Elvis and a coffin escape? Melissa clearly throws cool parties.
JF Penn:
"Stone of Fire – disguising a Catholic nun as a Hindu corpse and then burning her alive on a pyre on the Burning Ghats of Varanasi, India; and  One Day in New York – crucifying a nun and then setting the cross on fire on The Highline above New York City."
Does anyone else here wonder if JF Penn went to one of those Catholic schools full of mean nuns with rulers? Not that I can talk, considering the number of priests I've had killed by vampires.
Kristine Kathryn Rusch:
"I killed a runner–on the Moon–in the middle of a marathon, in my Retrieval Artist series."  [Extremes]
As it running a marathon on the Moon weren't tricky enough. My husband runs marathons, on Earth, and I'm not telling Kris when or where now.
Rebecca Cantrell:
"I rammed a guy with a submarine. Left a red ribbon of blood for the sharks to find." [The Steel Shark]
I thought that was really cool until I read the descriptions above. Now I'm thinking I'll need to get very creative in the next book.
How did I meet these bloodthirsty folks?
We're in a Storybundle called Dark Crimes, of course! You can get 5 novels for $5 or the entire set for $15. That should give you a summer of mystery reading all in one easy purchase. If you're feeling generous, please leave a donation to the Storybundle's chosen charity, Able Gamers, to help someone else have a great summer, too. Head on over to see what I mean! But hurry because the Bundle turns into a pumpkin in just two more days!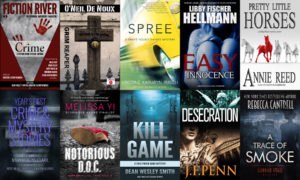 What's YOUR favorite character death in a mystery? Did it make you wonder about the author?